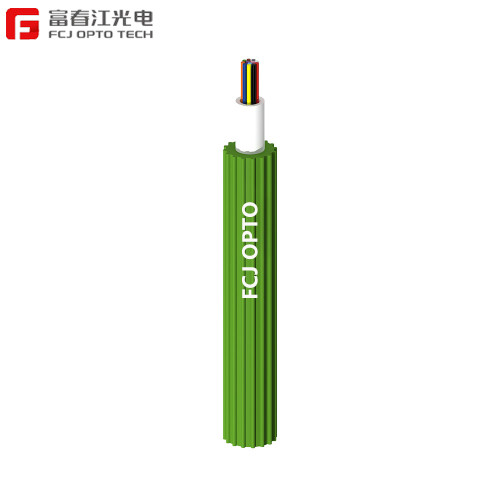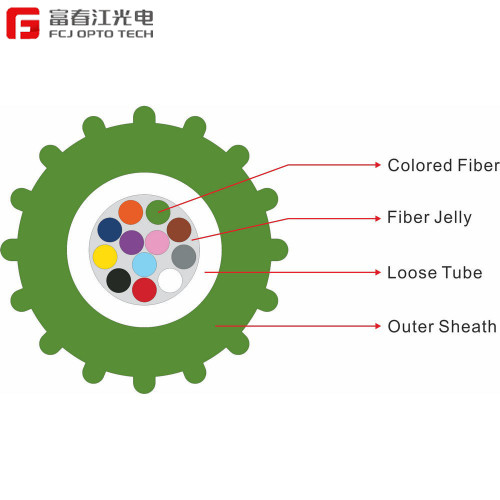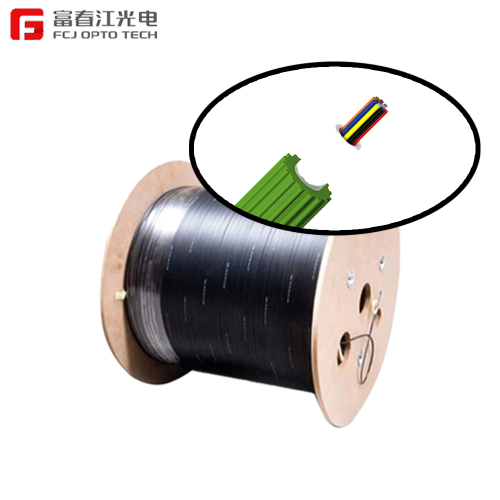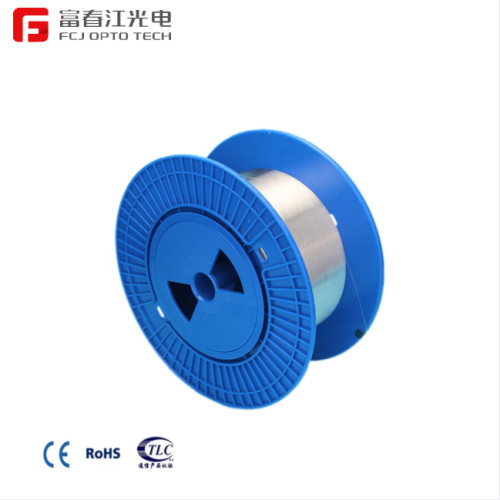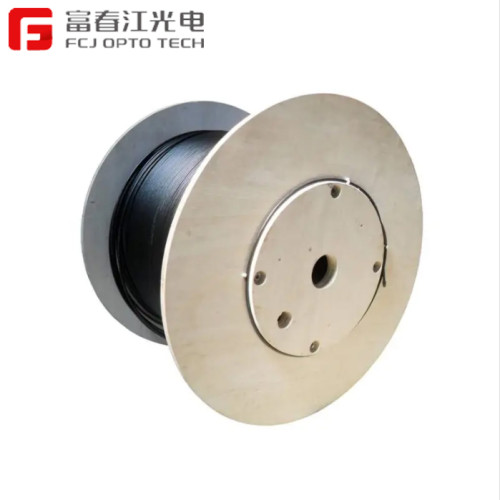 FCJ factory Mini air-blown mini figure 8 fiber optic cable Air Blown Fiber Optic Cable
Model

Mini air-blown cable
Item specifics
Number of Conductors

≥ 10
Fiber Type

G652D/Multimode
Armored

Yes
Operating Temperature

-40°C to + 70°C
Installation

Aerial/Direct Buried/Duct
Transport Package

Wooden Drums or as Per Customers′ Requests
Description
Mini center tube type air-blown fiber optic cable is coloring 2-24 core fiber placed in the bundle tube, the outer skin extruded a layer of high-density polyethylene outer sheath.
● Special composite material loose casing to reduce low temperature casing retraction.
● Precise control of fiber residual length, stable performance of optical cable.
●Unique process control to eliminate sheath wrinkling in air blowing.
●High density polyethylene outer sheath to improve air blowing distance.
IEC 60794-5、IEC 60794-1-2 or D/T 1460-2006
GCYFXY-xxF(MTE +Outer diameter)

HDPE Outer Sheath Thickness

Nominal:0.20mm,Mini: 0.15mm

Attenuation (single-mode fiber)

1310nm/1550nm≤0.35/0.22dB/km

Mini Permissible Static / Dynamic Bending Radius

10x/20x O.D. of fiber optic cable

Storage -30~+60℃; Installation -10~+40℃; Operation -20~+50℃

Fiber optic cable life (valuation)
IEC 60794-1-2-E1
(GB/T 7424.2-E1)

Short-term test tension is the maximum tension.

Long-term test tension is 1/3 of the maximum tension

Short-term ≤0.3
Long-term ≤0.1

Short-term:≤0.1,
No significant strain after stress relief;
Long-term:No Significan

IEC 60794-1-2-E3
(GB/T 7424.2-E3)

Short-term crushing force: additional attenuation ≤ 0.05.

Long-term crushing force: no significant.

After stress removal, no visible residual additional attenuation of the fiber, the

No visible cracking on the sheath surface

Short-term test pressure:600N

Long-term test pressure: 200N

IEC 60794-1-2-E6
(GB/T 7424.2-E6)

After testing: no visible residual accessory attenuation of the fiber.

No visually visible cracking of the sheath

Bending radius = 20 times the diameter of the micro cable

IEC 60794-1-2-E7
(GB/T 7424.2-E7)

After the test: no fiber breakage and no visually visible cracking of the sheath.

After stress removal, no obvious residual additional attenuation

IEC 60794-1-2-E11A
(GB/T 7424.2-E11A)

After the test: no fiber breakage and no visually visible cracking of the sheath

Mandrel diameter = 20 times the diameter of the micro cable

Number of tightly wound turns = 10

All the above results are tested at 1550nm wavelength
Typical air delivery lengths and pipe types suitable for air delivery

Polimente: PRM-196 , PR140 etc.

Air pressure: 13bar
Environmental Characteristics
Indicators to be achieved by the test

Additional attenuation of fiber (1550nm)

Water penetration performance

1m water height, 3m cable, test time 24 hours

No water seepage from the other end of the micro cable

Microcables are maintained at an ambient temperature of 70°C for 24 hours

No filler compound drops out of microcables