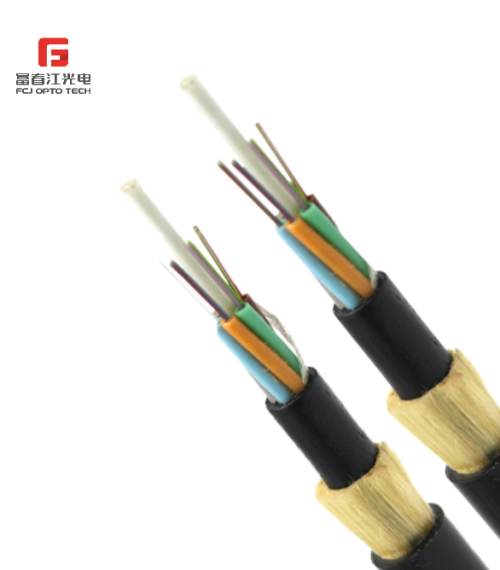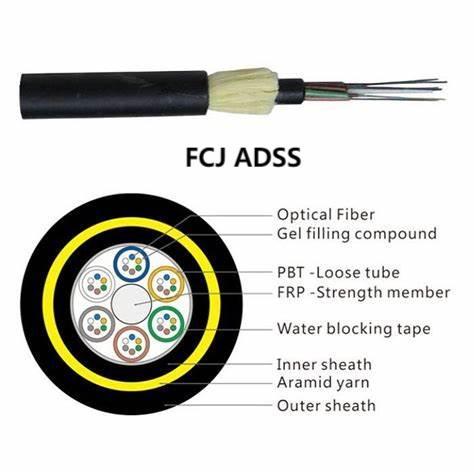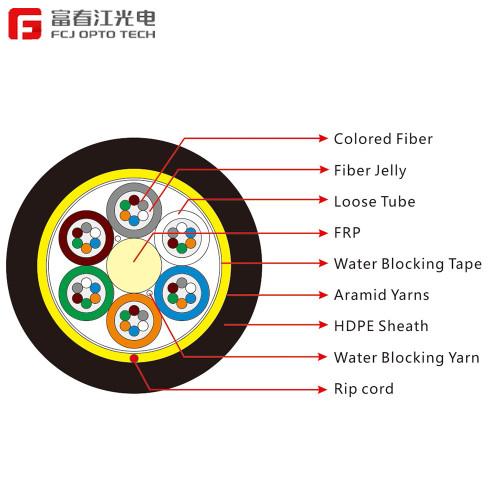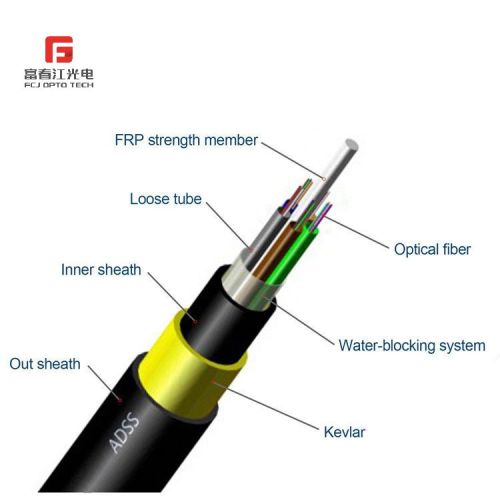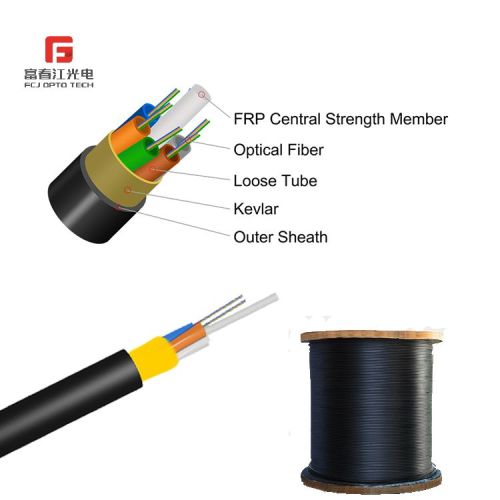 FCJ Factory manufacturers fiber optic cable ADSS 96 core Outdoor fiber optic cable distributor
Item specifics
Certification

RoHS, UL, CE, ISO9001, VDE, CCC
Brand

FCJ OPTO TECH
Sheath Material

single PE jacket
Cable Application

Aerial
Loose Tube Type

PBT Central Tube Type
Transport Package

Wooden Drum and Carton
Specification

2KM, 3KM,4KM
HS Code

85447000
Span

100Meter
Fiber cores

2~288cores
Description
ADSS cable Structural features:Single layer ,Loose tube stranding, Non-metal strength member, Half dry water-blocking, Aramid yarn strength member, PE outer jacket. it adopts the twisted structure of loose sleeve layer, 250 μm optical fiber is inserted into the loose tube made of high modulus materials, and the loose tube is filled with waterproof compounds. The loose tube ( and filling rope ) is twisted around the non-metallic center reinforcing core ( FRP ) to synthesize a compact cable core. The gap of the cable core is filled with a water-blocking yarn and a water-blocking belt longitudinally wrapped by the cable core, and then the aramid fiber that plays a reinforcing role is twisted. Finally, the polyethylene ( PE ) outer sheath or the electric mark ( AT ) outer sheath is extruded.
· Can be installed without shutting off the power
· Excellent AT performance, The maximum inductive at the operating point of AT sheath can reach 25kV
· Light weight and small diameter reducing the load caused by ice and wind and the load on towers and backprops
· Large span lengths and the largest span is over 1000m
· Good performance of tensile strength and temperature
· The design life span is 30 years
The actual status of overhead power lines is taken into full consideration when ADSS cable is being designed. For overhead power lines under 110kV, PE outer sheath is applied. FOR power lines equal to or over 110kV, AT outer sheath is applied. The dedicate design of aramid quantity and stranding process can satisfy the demand on variou
ADSS cable complies with Standard IEEE P 1222 as well as IEC 60794-1.
1、Optical fiber performance
Item

Contents

Value

Type

SM G.652D

Cladding Diameter

125.0±0.7um

Coating Diameter

243.0±0.7um

Mode-Field Diameter (MFD)

1310nm

9.2±0.4um

1550nm

10.4±0.6um

Attenuation

1310nm

≤0.34 dB / km

1383nm

≤0.34 dB / km

1550nm

≤0.20dB / km

Zero Dispersion Wavelength(λ0)

1312±12 nm

Zero Dispersion Slope(S0)

≤0.092 ps/(nm2.km)

Cable Cutoff Wavelength λcc

≤1260nm

Macrobend Loss

100 turns, Φ50mm@1310nm&1550nm

≤0.05 dB / km

Proof Test

≥9.0N, ≥1.0%, ≥100Kpsi
2、Cable identification
Fibre & Loose tube colour code
| | | | | | | |
| --- | --- | --- | --- | --- | --- | --- |
| NO. | 1 | 2 | 3 | 4 | 5 | 6 |
| Colour | Blue | Orange | Green | Brown | Gray | White |
| NO. | 7 | 8 | 9 | 10 | 11 | 12 |
| Colour | Red | Black | Yellow | Violet | Pink | Aqua |
3、Cable assembly & dimensions
Item

Contents

Unit

Value

Fiber

Number

/

6

12

24

36

48

72

96

144

Loose tube

Material

/

PBT

Number

/

1

2

4

6

4

6

8

12

Ouder diameter

mm

1.9

2.0

2.2

2.0

2.2

2.2

Max fiber per tube

/

6

6

12

12

12

12

Water blocking material

/

Jelly compound

Central strength member

Material

/

FRP

Ouder diameter

mm

1.5

2.0

1.8

2.1

2.8

3.5

PE layer diameter

mm

/

/

/

/

3.7

6.4

Water blocking

Material

/

Water blocking yarns/tape

Sterngth member

Material

/

Aramid yarns

Number

/

Determined according to the use requirements

Outer sheath

Material

/

HDPE

Colour

/

Black

Thickness

mm

1.6

Marking

Material

/

Printing Ink

Color

/

White

Way

/

Ink-jet printing

Content

/

(Producers+Type+Date of production+Meter)Or Specify the content

Drum

Material

/

Export bakelite plate drum

Optical cable

Ouder diameter

mm

8.9

9.6

9.7

9.7

11.6

14.4

Weight

Kg/Km

59

65

67

63

98

151

MAT

KN

1.3

1.5

1.5

1.6

2.1

3.0

RTS

KN

1.8

2.3

2.1

2.3

3.3

4.7
4、Mechanical & Environmental Performance
Item

Contents

Value

MAX. Crush resistance

Short

1000N/100mm

MIN. Bending radius

Operation

12.5D

Installation

25D

Temperature range

Installation

-10℃~60℃

Operation

-30℃~70℃

Storage/transportation

-30~70℃
5、Main mechanical & environmental performance test
Item

Test Method

Acceptance Condition

Tensile Strength

IEC 60794-1-2-E1

Load:MAT

Finer strain ≤0.33%

Length of cable:≥50m

Loss change after test(1550nm)≤0.1dB

Load time:1min

No fiber break and no sheath damage

Crush test

IEC 60794-1-2-E3

Load:Short term crush

Loss change after test(1550nm)≤0.1dB

Load time:1min

No fiber break and no sheath damage

Impact test

IEC 60794-1-2-E4

Weight:0.45KG

Loss change (1550nm)≤0.1dB

Height:1meter

Radius:12.5mm

No fiber break and no sheath damage

Times:≥5

Repeated Bending

IEC 60794-1-2-E6

Bending radius:≤20D

Loss change (1550nm)≤0.1dB

Wdight:150N

No fiber break and no sheath damage

Times:30

Water penetration

IEC 60794-1-2-F5

Height of water:1m

No water leak from the cable core of the opposite end

Sample length:3m

Time:24h

Temperature cycling

IEC 60794-1-2-F1

Temperature:-40℃~70℃

Loss change (1550nm)≤0.1dB

Time of each step:12h

No fiber break and no sheath damage

Number of cycle:2
6、Packing
---Each single cable length been wound on an Export bakelite plate drum or pure wooden drum;
---Standard drum length is 4000m or Specify the length;
---At least 3m of cable inner end should be reserved for testing;
---Covered by plastic buffer sheet;
---Sealed by strong wooden drum